Supporting Primary Schools & Secondary Schools
Ignite Success Through Character Education
MPCT Young Leaders is a thriving and distinguished training provider, which uses character education and learning as its principle foundation.
Who are we?
MPCT Young Leaders forms part of the Motivational Preparation College for Training (MPCT), which was established in 1999. MPCT was acquired by national training provider Learning Curve Group (LCG), in 2021.
What we do?
By implementing our unique character education syllabus, we support schools and local authorities across the United Kingdom with high quality opportunities to broaden and differentiate their curriculum.
Through an exciting and diverse sustained delivery, MPCT Young Leaders teaches the acquisition and strengthening of virtues, supporting schools in developing confident and compassionate learners who are equipped with a strong moral compass.
Who do we support?
MPCT Young Leaders supports a wide range of schools and education based organisations. Our unique curriculum is differentiated dependent upon age, academic ability and mobility levels.
Primary Schools
Secondary Schools – KS3
Special Schools
Pupil Referral Units
Local Authorities
How we do it?
Our pedagogy is based upon active learning, with a holistic approach to academic and personal development, all of which is delivered in-school through a sustained and progressive instructor-led delivery.
Our friendly instructors, who hold a wealth of experience in both the military and education sectors, take learners on a journey of intrigue and self-discovery, developing wider skills and attributes from building resilience to cultivating virtues, all underpinned by a soft military ethos.
Why MPCT Young Leaders?
MPCT Young Leaders will look to proactively support those schools who struggle to implement an effective character education curriculum; also providing opportunity for those schools wishing to add further value to bolster their pre-existing delivery.
MPCT Young Leaders supports a school's moral and statutory duty towards effective delivery of character education and personal development, reinforced by the assessment of school performance in this area by Ofsted and Esytn.
Research suggests that schools that enable these opportunities help young people to explore and express their character, and build the skills they need for resilience, empathy, and employability. Furthermore, the wider impact on schools can be the improvement of educational attainment, attendance, and learner engagement.
MPCT Young Leaders is underpinned by three distinct learning approaches; these form the foundation of each programme delivery.
Cognitive Development
Supporting learners to develop problem solving, reasoning, and critical thinking skills through practical contextualised activities. Learners will develop confidence in the application of leadership, to promote skills and experience in decision-making and effective judgment.
Personal and Social Development
Developing learners' understanding and practical application of leadership and communication. Through scenario based delivery, learners discover the importance of group interaction and teamwork, which allows learning to take a fun and challenging path. Learners see first hand success of commitment, communication, social cohesion, and the importance of respect.
Happiness, Health and Wellbeing
Supporting learners to develop an understanding of the contributory factors involved in achieving and maintaining a healthy lifestyle, particularly the impact of food and nutrition on health and wellbeing, and the skills to adopt healthy behaviours. Learners will explore how to deal with challenges, understand anxiety, and the importance of developing a positive mindset to support mental resilience.
Young Leaders Core Values
PHYSICAL AND MENTAL HEALTH: MPCT Young Leaders promotes the importance of a healthy body and mind
RESPECT: MPCT Young Leaders promotes due regard for the feelings, wishes, and rights of others
INTEGRITY: MPCT Young Leaders promotes the quality of being honest and having strong moral principles
DEDICATION: MPCT Young Leaders promotes a strong work ethic and desire to succeed
EMPATHY: MPCT Young Leaders promotes the ability to understand and share the feelings of others
The Young Leaders Impact Analysis is designed to provide a detailed breakdown of the delivery impact on the cohort; measuring both individual and group progress. Our syllabus is founded on improving character strengths and life skills to prepare learners for the challenges of later life. Learners are assessed on 7 character strengths, which are the statistically most likely to predict life satisfaction and high achievement. These strengths are identified and attributed to a series of studies and research undertaken at the KIPP Academy, focusing on quantifying 'character'.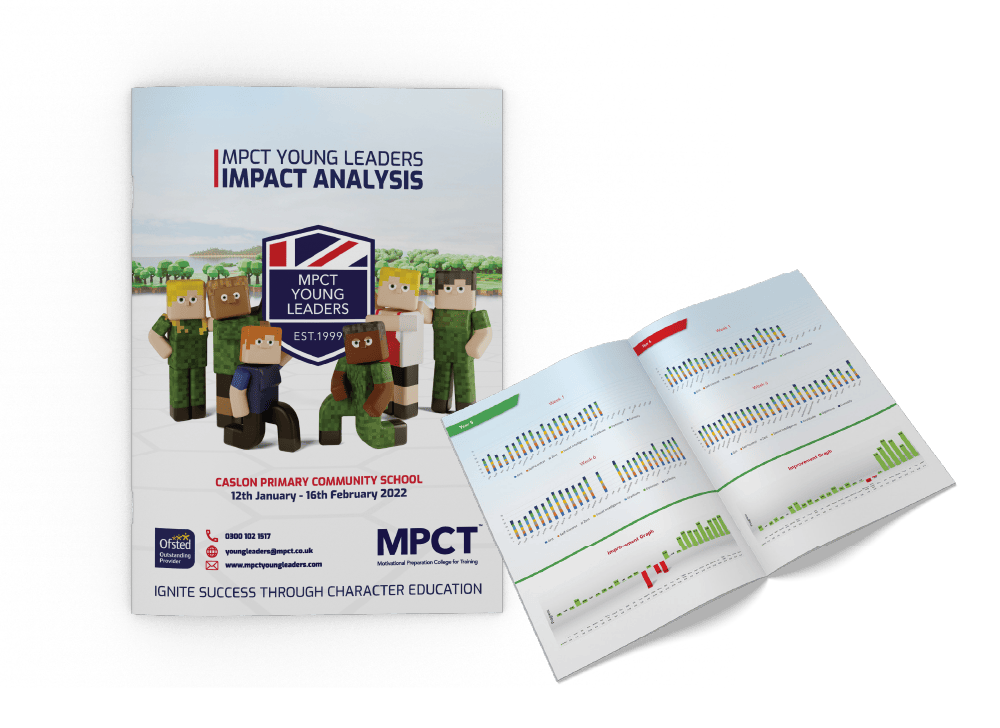 What is assessed?
Grit, Self-Control, Zest, Social Intelligence, Gratitude, Optimism, Curiosity
What is included?
Bespoke and branded school documentation supporting evidence for external review
Programme module summary showcasing learning objectives for each lesson
Start and end point assessment data for individuals
Progress metrics and improvement data
Outstanding individual progress and scoring recognition
Detailed Instructor comments
1-1 analysis feedback session with the Young Leaders team
All delivery is conducted at the school location, as part of the initial consultation, our Instructors will review the location settings and outline the preferences for the learning environment required.
Each session can support up to 30 learners. However, we can also operate multiple cohorts (AM/PM), allowing two groups of learners per day. If schools rotate cohorts each half term for the academic year, we can deliver up to 360 learners!
MPCT Young Leaders is designed to support Key Stage 2 & 3.
The paramount focus of MPCT Young Leaders is always the safety and wellbeing of our learners. We do this by ensuring all our staff are sufficiently trained to deal with any safeguarding concerns that may arise. They are supported by dedicated safeguarding leads in all areas, and coordinated nationally by a Lead Safeguarding Officer (LSO). The independent LSO is responsible for the overall safeguarding of the provision, and is responsible for dealing with any direct concerns raised about an Instructor.
There are many ways to utilise the many cost saving approaches, speak to the Young Leaders team to find out how!
Click on the Packages and Prices section to find out more.